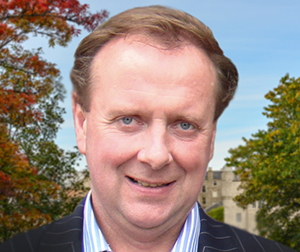 Uisdean Vass has some forty years' experience in the international and UK oil and gas business. In North America, his friends often know him as "Hugh".
Uisdean has been on a long and winding law firm journey through the oil patch.
Admitted in Scotland and Louisiana, Uisdean graduated with an LLB Honours from the University of Edinburgh (1982) and went on to study for an LLM (1985) specializing in oil and gas law at Louisiana State University. After practicing with Stone Pigman Walther Wittman & Hutchinson of New Orleans for five years (1987-92), he joined London-based Clyde & Co's new Caracas office as Senior Oil and Gas Associate. This move was neatly timed to catch the great Venezuelan Oil Opening which continued for most of the 1990s. In 1997, Uisdean founded the Caracas office of Calgary-based Macleod Dixon, and in 2001 he went on to open the Rio de Janeiro office of the same law firm.
After seventeen years in the Americas, Uisdean returned home to Scotland in 2003, where he promptly became Head of Oil & Gas, in Maclay Murray & Spens LLP (MMS), one of Scotland's premier law firms. In 2007, Uisdean won the accolade of Scottish Corporate Lawyer of the Year. After nearly ten years leading MMS, Uisdean left to join Bond Dickinson LLP as a partner. He subsequently served as Head of Oil & Gas in Ledingham Chalmers before taking the exciting (and a little scary) decision to form his own legal consultancy, VassPetro Limited, in 2020.
Uisdean's practice is heavily oriented towards upstream oil and gas, licensing, upstream deals including farmouts and asset sale & purchase agreements, joint operating agreements, product sales agreements and commercial agreements between oil companies of every kind. Uisdean has also worked extensively on the financing of upstream transactions, be they debt, equity or capital markets. Uisdean has advised on transactions in some thirty countries. He has also taken a big interest in oil and gas regulatory matters, and in the UK, he is known as a respected commentator on the UK's "maximizing economic recovery" regulatory regime. Additionally, Uisdean is also active in advising operators on oil service and construction contracting.
Uisdean is a prolific writer and commentator on oil industry issues. He is fluent in English, Spanish and Portuguese along with a dash of Scots Gaelic. He is a countryman through and through and a keen gardener.
Uisdean has been a member of the AIEN since 1995. He served as Co-Chair for the AIEN's Model Contracts Seminars in Edinburgh, Scotland (2015) and in Banff, Alberta (2016). Shortly afterwards, he was appointed as one of three Co-Chairs for the drafting of the Asset Sale Purchase Agreement, which is most recent AIEN model form delivered in 2019. Uisdean is a member of AIEN's Europe Regional Committee.