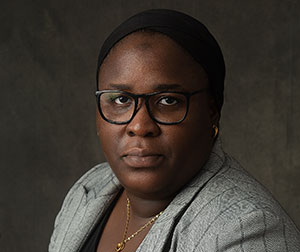 Latifat is the Company Secretary/Legal Adviser of the National Engineering and Technical Company Limited (NETCO), a wholly owned subsidiary of the Nigerian National Petroleum Company Limited (NNPC). She heads the Legal Department providing support to key projects in Nigeria's oil and gas engineering sector.
The bulk of her 20-year career has been spent in NNPC, where prior to NETCO, she spent 15 years providing upstream and midstream oil & gas legal advisory services within the National Petroleum Investment Management Services (NAPIMS), the upstream arm of NNPC overseeing the Federal Government of Nigeria's investments in the oil industry's Joint Ventures, Production Sharing Contracts and Service Contracts. During this period, she was regularly involved in the negotiation and management of contracts devolving from the Joint Ventures and the Production Sharing Contracts including gas sales, unitisations, and marginal fields. She provided direct legal support on some of Nigeria's notable upstream projects including the Erha North Project, Bonga North West Extension Project and the Bonga South West Aparo Project. She has also provided support to Nigeria's Ministry of Petroleum Resources, working on ad-hoc tasks which included the Unitisation Guidelines for Nigeria's oil and gas industry as well as the Petroleum Industry Act. She is a contributing author to two of Globe Law and Business, UK's topical books on the global oil and gas industry. "Upstream Law and Regulation: A Global Guide, Second Edition" and "African Upstream Oil and Gas, A Practical Guide to the Law and Regulation".
Prior to joining NNPC, Latifat worked as a barrister and solicitor with two top law firms and as in-house counsel in a leading bank in Nigeria. She is a Centre for Effective Dispute Resolution (CEDR) UK Accredited Mediator.
Latifat has been a member of AIEN since 2010 and at different times, served as a Mentor on the AIEN Young Negotiators (YN) Mentoring Program. She has served as the Alternate Regional Director for the Africa Chapter of AIEN since June 2020 and was this year, voted in as an AIEN Board Director. She has organised and moderated AIEN webinars and is currently working as part of the Awards Committee for the 2022 Awards at the upcoming AIEN International Energy Summit (IES) in London. She is also a member of the AIEN Membership Committee.
When she isn't thinking anything "law", she loves to spend time with her husband and children in her home in Lagos, Nigeria.