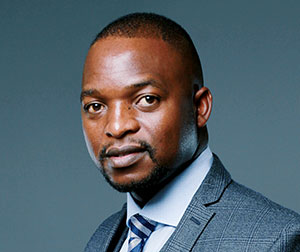 Shakwa Nyambe is a Namibian specialized energy lawyer and the Managing Director at the law firm Shakwa Nyambe & Company Inc. Shakwa Nyambe & Company Inc. is a law firm with headquarters in Windhoek, Namibia solely dedicated to serving clients in the energy and natural resources sector.
Shakwa holds a postgraduate degree of Masters of Laws in Oil & Gas Law with Professional Skills (LLM) from the University of Aberdeen in the United Kingdom, a Postgraduate Diploma in Drafting and Interpretation of Contracts from the University of Johannesburg, a Baccalaureus Juris degree and a Bachelor of Laws degree both respectively from the University of Namibia.
Shakwa previously worked as a Legal Counsel at the National Petroleum Corporation of Namibia, as a Chief Legal Officer at the Ministry of Justice, Namibia and as a State Advocate at the High Court of Namibia.
Shakwa is a member of the AIPN, Energy Institute and the Society of Petroleum Engineers (SPE). Apart from serving on the drafting committees for the AIPN Farmout Agreement and the Asset Purchase and Sale Agreement, Shakwa currently serves as the Alternate Director for AIPN's Africa Regional Chapter while at the same time serving as the country representative for Namibia on the Africa Regional Chapter Committee.
When Shakwa isn't advising clients in the energy and natural resources sector, he enjoys exercising at the gym, participating in marathons, watching business and current affairs news and collecting music records. Shakwa is also involved with a community voluntary association in Namibia, which advocates for the social and economic upliftment of people in rural areas.