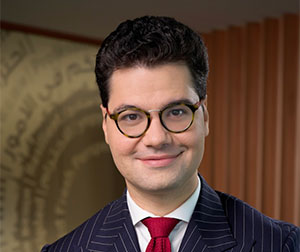 Rodrigo Carè is a dual qualified New York and Italian lawyer, with a focus on construction arbitration and commercial disputes in the Middle East.
Early in his career, Rodrigo completed a long secondment with the LNG and Natural Gas divisions of Eni SpA.
Rodrigo has significant experience representing clients in disputes before the International Chamber of Commerce (ICC), the London Court of International Arbitration (LCIA), the United Nations Commission on International Trade Law (UNCITRAL), the International Centre for Settlement of Investment Disputes (ICSID), and the Stockholm Chamber of Commerce (SCC). He also has experience within the energy projects and infrastructure space.
Rodrigo completed his studies in the U.S. (Georgetown University Law Center) and Italy (Roma Tre). He is fluent in English, Spanish, French, and Italian.
Since becoming a member in 2023, Rodrigo believes AIEN provides invaluable resources, networking opportunities, and access to a wealth of expertise across the energy sector. "Through my membership, I have gained insights into best practices, kept abreast of industry trends, and established connections with industry leaders, all of which have proven essential in my day-to-day life as an energy disputes lawyer."