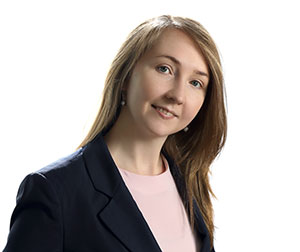 Alexandra Rotar is an associate at the Moscow office of Morgan Lewis. Alexandra focuses on providing legal advice to companies investing and operating in the Russian and CIS oil and gas, power, renewable energy, metals and mining, and natural resource sectors.
Over the past ten years, she represented clients on significant transactions in the energy sector, with a focus on joint ventures and mergers and acquisitions. She also advises clients on commercial transactions such as supply agreements and service contracts as well as on compliance with corporate, industrial, regulatory and environmental regulations applicable to companies doing business in the energy sector.
Legal 500 EMEA 2019 considers Alexandra to be "a key name for joint ventures, contractual supply arrangements and regulatory matters specific to the Russian energy sector".
Alexandra is an author of over twenty publications in the energy sector, ranging on topics from unconventional resources to Russian LNG export liberalization, to environmental liability for off-shore oil & gas operations.
Alexandra is a mother to two little boys who test and train her negotiation skills 24/7 but never let a day pass without a smile. Faced with challenges of combining family and career, Alexandra has been inspired to write a book about what it takes to be a working mother based on interviews, that she has had with other working mothers who shared their experience and advice.
Alexandra has been leading AIPN's Young Negotiators in Russia for a number of years. In May 2019, she was appointed to be the AIPN Regional Director for the CIS-FSU Chapter.