AIEN has produced an incredible two-day program for its annual International Energy Summit. Stay up-to-date on current trends and challenges in the international energy industry by attending sessions that include high-profile speakers, interviews, hot topics, fireside chats, moderated discussions and more! Don't miss out on these exciting sessions, available at the AIEN 2022 IES, themed "The Future of Energy: Transition & Security".
Keynote Address "Energy Security: The New Global Imperative" by:
The Rt. Hon. Lord Robertson of Port Ellen KT, Former NATO Secretary General and UK Defence Secretary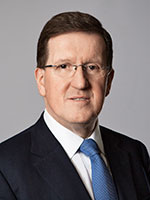 Lord (George Islay MacNeill) Robertson is Senior Counselor at the Washington DC based Cohen Group (USA). He was NATO Secretary General from 1999-2003 and UK Defence Secretary from 1997-1999. He was Member of Parliament for Hamilton and then Hamilton South from 1978-1999.
He was appointed the United Kingdom Secretary of State for Defence in 1997. In October 1999 he took up appointment as the 10th Secretary General of NATO and Chairman of the North Atlantic Council and was elevated to the House of Lords. During his time at the Ministry of Defence he oversaw the 1988 Strategic Defence Review which radically reconfigured Britain's military. His time also coincided with the conflict over Kosovo and its liberation.

In NATO he invoked Article 5 of the North Atlantic Treaty – the first time in the Alliance's history and chaired the first ever NATO Russia Council. With Javier Solana of the EU, he delivered the Ohrid Agreement which ended the 2001 conflict in what is now North Macedonia. He chaired the NATO Summit in Prague in 2002 which enlarged the Alliance with seven new countries, three of them formerly part of the Soviet Union.
He was Special Adviser to BP from 2006-2021, Deputy Chairman of the Board and Chairman of the Audit Committee of TNK-BP (BP's £50 bn market cap Joint Venture in Russia) from 2006-2013. He was Chairman of BP Russian Investments Ltd from 2017-2020.
Click here to read his complete biography.
Boulos Lecture "Finding a Way Out of Energy Chaos to a Smooth Transition" by:
Simon Flowers, Chairman and Chief Analyst, Wood Mackenzie
Plus many more global experts and industry leaders.
Click here to download the current IES program
Topics to be featured this year:
Exploration Leaders Panel
Africa's Energy Future
Financing the Future: Energy Transition & Changing Business Models
Legal Heavyweights: Mitigating Risk and Navigating the Complexities of Modern Practice
Carbon Capture & Storage
North Sea in Transition
Hydrogen in the Energy Transition: Between 'Silver Bullet' and 'Mere Hype'
M&A in the Energy Transition
Natural Gas: The Key to Energy Transition & Energy Security
Transferrable Skills and the Energy Transition
Check back soon for additional information and announcements!
Prior to the IES Welcome Reception and kick-off of the conference, AIEN will host four workshops on Tuesday, September 27. There will be two morning workshops and two afternoon workshops, allowing attendees to register for more than one workshop and double their learning! All workshops are $200 each and can be added on to your conference registration. Registration will include a coffee break and workshop materials.
The number of participants in each workshop is limited in order to facilitate the highest level of interaction.
Morning Workshops (8:30 a.m. – 12:00 p.m.)
Bid Round Strategies & Transferrable Tactics
Eric Fry, International Energy Consultant
Graham Kellas, Senior Vice President, Global Fiscal Research, Wood Mackenzie
Steven Otillar, Partner, White & Case
Click here for workshop description and speaker biographies.
Turning Hydrogen Hyperbole into Contractual Reality
Heike Trischmann, Partner, Watson Farley & Williams
Phil Nutman, Managing Director, QED Gas Consulting
Click here for workshop description and speaker biographies.
Afternoon Workshops (1:30 p.m. – 5:00 p.m.)
Introduction to Negotiation Skills & Understanding Partners
David Davies, Director, Davies Oil & Gas Management Advisory Ltd.
Christopher P. Moyes, President, Moyes & Co.
Click here for workshop description and speaker biographies.
Development of Carbon Markets in Supporting Decarbonization
Sy Marzidy, Senior General Counsel, Petronas
Mark Wilkie, Carbon Management Director – EMEA, GaffneyCline
Tallat Hussain, Counsel, White & Case
Click here for workshop description and speaker biographies.
Continuing Education Credits
AIEN is an accredited sponsor approved by the State Bar of Texas Committee on MCLE. The number of MCLE credit hours awarded for the International Energy Summit are still being determined.